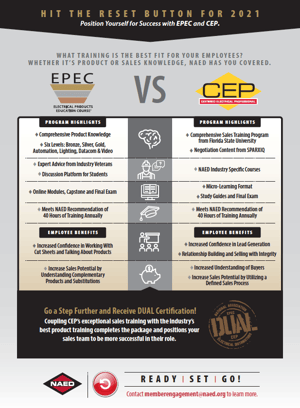 Are you ready to say "Goodbye" to 2020 and "Hello" to 2021? I think we can all agree this year has been tough, and our salespeople have been unconventionally tasked to find new ways to connect with their customers. NAED offers two programs specific to the industry that will give you the confidence in product knowledge, sales, and negotiation skills needed to begin the new year with a positive attitude: EPEC and CEP.
When asked how the NAED Member Engagement Team is preparing for 2021, Catherine Viglione, Director of Member Engagement & Technology at NAED said, "Our team is talking to a lot of distributors right now that are really looking at the skillsets of their sales organizations and focusing their training initiatives on building those individuals up, whether that be by increasing product knowledge through programs like EPEC or honing core sales skills like understanding buyers or negotiation that are available in CEP. There is definitely a renewed sense of urgency to get something going to start the new year off in a stronger position."
So, what do these two courses offer to get our salespeople off on the right foot for 2021? Kitty Lasinski, NAED Education Product Manager, breaks it down for us:
"EPEC educates students on the topics they need to know to function in the electrical distribution industry – the fundamentals of electricity and power, the products we sell, how they are used, and how they work with other products in electrical systems. It teaches how the systems relate to each and emphasizes the ability to cross-sell by having a holistic view of all the parts, fittings and tools we sell that work together. EPEC involves a lot of hands-on work that teaches students how to interpret blueprints and schematics, select appropriate products and build lists of all the materials needed to complete the project. Students learn how to identify and work with available people and resources to problem solve and become important resources to their customers.
"CEP focuses on improving selling skills to better support customers in our industry. It includes over 140 courses focused in 13 competency areas that help students to build and maintain customer relationships while also improving their skills in areas such as prospecting, negotiation and closing sales. CEP includes industry-specific courses as well as broad-level product information as well, for an approach that targets distributors and their customers."
DJ Anderson of Springfield Electric is an EPEC Gold Graduate and a CEP Graduate. When asked what the programs have done for his career and skill level, Anderson says, "As a relatively new salesperson, EPEC was great for guiding me through the products and services that we offer. Every supplier is different, and I was challenged to practice identifying solutions prior to customers asking in the field. I was better prepared to provide information or quickly seek answers and was aware of more add-on opportunities." As for the CEP program, DJ says, "It helps salespeople combine skills with both sales professionalism as well as product knowledge."
The EPEC and CEP programs both feature online modules, numerous study-related resources, and comprehensive final exams that can be completed on your own schedule. Manager guides give supervisors content outlines and suggested reinforcement activities to help mentor associates through the process. Upon successful completion, EPEC and CEP graduates are awarded certificates of completion and digital badges to mark their achievement. There is a special additional level of recognition and digital badge for Dual Certification if a student completes both an EPEC course and CEP.
For a side-by-side comparison, download this EPEC and CEP infographic.
In today's environment, building relationships is more important than ever. Hit the reset button for 2021 and be prepared with the knowledge you need to be the trusted expert for your customers.
Reach out to the NAED Member Engagement Team for more information on both programs.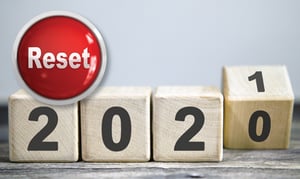 In case you missed it, for the past three weeks, NAED and tED magazine have been teaming up to get us ready for 2021. We have all heard someone say, or we have said it ourselves: "I can't wait for this year to be over."
The truth is, if we don't take some action, and push that reset button, 2021 is going to be a lot like 2020.
If you missed the RESET articles and want to find them, do a search on tEDmag.com and lightEDmag.com for "Reset", and find them on the NAED News page.