In industries where competitors offer similar services, sell similar products, and hire similar sales people, the challenge to distinguish a business often results in new investments and initiatives that gravitate toward technical changes -- like new software, e-commerce systems, or customer support options.
We then face an ongoing challenge of incrementalism – of having to improve and do more for a customer base that may not be willing to increase spend year-after-year. Every business faces this challenge. How you respond makes the difference between the winners and losers.
We all have the opportunity to invest in data right now – mainly how to use data to become better businesses. You can use data to:
Improve the hit rate of your sales force
Reduce your operational costs
Expand your sales to existing customers
Maximize your marketing and technology investments.

A Chief Data Officer could soon become as important as a Chief Financial Officer and a Chief Operations Officer.
The solution to becoming great at data unfortunately isn't found in your standard reporting tools.
The measures we use today to evaluate our businesses are often informative in nature, but not actionable. They can tell us what our company is, how it's made up, but not WHY our company is the way it is or what we should do to improve our course. It's the difference between saying, "Your blood pressure is 140/95 and a little high," versus saying, "You eat too much salty food and need to change your lunch habits."
Consider the reports you receive each day/week/month that you use to keep track of your business. There will be a revenue number, and perhaps some sort of operations cost number and maybe a margin rate number. These tell you what you are, but not why. What you really need is the measure behind these measures.
An example might be looking at your revenues and seeing that your sales are flat right now. We know they're not flat with everyone, they've just averaged out that way. So who are you up with and who are you down with?
Traditionally we might divide revenues by customer markets or by product lines. However, I think we should divide sales by our business strategy. So how are our sales with target accounts, or low wallet share accounts, with low profit accounts, or with inside sales managed accounts? How much revenue has been lost from inactive accounts? Are we hitting our targets on new business?
Whether the market grows 1% or 10% is irrelevant unless you have 100% market share. Your challenge is to decide where your company will grow, and to measure if you're actually following through on those goals. Flat revenues might be a good result if you're growing with customers you want to grow with and only losing bad business.
What is measured is managed – an old bit of wisdom that isn't 100% true. A measure can be managed if it can be linked to an action. If you can respond to a result, that's management. If it's just a number you can't apply a behavior to, then it's just information. And, more often than not, it's noise.
Think about this with your workforce. The closer your measures look like actions, the more likely it'll be front-of-mind, and the more likely your workforce will respond. You can measure sales in a month and share them with your team, but you can also measure the amount of sales calls, quotes, and customer-facing time they had in a month. Sometimes measuring the actions employees take to connect with the customer is the real measure you should be using. Measure behaviors that lead to success, rather than the success itself.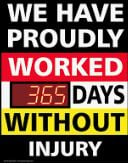 To impact things doesn't always require a direct measure. Take for example displaying the 'days with worker injury' signs that you see in most manufacturing facilities. By displaying that number prominently, you keep the subject top-of-mind of the workforce, and in turn they're more careful and more disciplined in carrying out their job. Simply displaying the number, saying it's important, has repeatedly been enough to make an impact in the actual results. The net impact is a safer, more productive, less costly work team, all achieved by measuring the right behavior. However you don't need to measure productivity, or labor costs, or downtime. You just need to measure if they're careful in what they do.
These days our lives are bombarded with numbers, and when information saturation is a very real challenge, you can only share a small number of measures with your employees each month. Maybe as few as 2-3, but no more than 5.

I would suggest being very selective in deciding what measures to share, to make them as actionable as possible, and to keep them relevant to their audience. The measures for the CEO shouldn't be the measures for the outside rep or warehouse supervisor. Tailor your measures for each team, identify the true behavior you want to manage and encourage, and make those part of your reporting suite. Don't use whatever generic measurements that came with the software once you turned it on. If you stick with those you'll end up the same as everyone else. And, your customers will notice.
Want to read more of Mark's work? Check out:
Learn how the Market Data Program can help you use data to distinguish your organization.