Celebrate #GivingTuesday by making a contribution to the NAED Education & Research Foundation's Future Fund Campaign! Your contributions help with providing the training, education, and research our industry needs to continue to be successful.
In a few months, we will mark 50 years since the Foundation first began serving the electrical distribution industry. That time has been filled with critical research and training that is key to making our businesses what they are today.

And, we're not finished. We have a lot of work to do especially in this era of constant change, with the advent of AI, robotics and automation, we need to be prepared to change too. And what will spark that change is knowledge and training. That's where the NAED Foundation does its best work.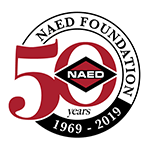 In recognition of its 50th anniversary, the Foundation set a goal of $350,000 for its Future Fund campaign. All contributions will go toward funding research and educational programming with an eye on preparing for changes in the industry.

When you invest in your people you are advancing their opportunities by developing their skills. This investment will pay off by preparing your leaders and workforce for forging new paths in uncertain times.

As we face the challenges ahead, our association is more committed than ever to exploring solutions that will benefit us all. Today, you can take the first step toward that future by showing your support.
Visit www.naed.org/futurefund and help us celebrate 50 years with a record-breaking Future Fund in 2019. Together we can make a difference.